As we continue to fix things, we are also continuing to add more features as well.
We have just added a new Product Notifications feature: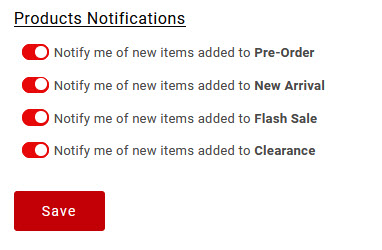 We know that you might not always be checking our site for the latest and the newest, because there's not a set schedule to it. So rather than you having to check back on ToyDemon.com all the time (which you are more than welcome to, by the way), we feel it's a lot easier if you can sign up to get notified.
From your Account Dashboard -> Email Notifications, you can now chose to be notified when there are new Pre-Orders available, new products arrived ready to ship, new items added to Flash Sale, and new products added to Clearance in addition to the original wish list price drop and back in stock notifications.
This way, you won't have to worry about missing the newest releases or the newest deals added to Flash Sale and Clearance!
Just remember, you can always uncheck and remove them if you change your mind.
What do you think of the new notifications?